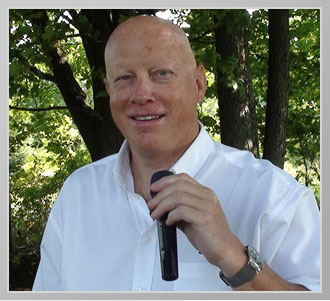 Bill Dickenson
Owner/Auctioneer
'Billy D' as he is affectionately known in the auction profession has been an auctioneer for over 30 years. As the 1995 Reverse World Automobile Auctioneer Champion, Billy D has auctioned and sold thousands of automobiles and equipment over the years. He has also auctioned and sold everything under the sun including real estate, harness racing and quarter horses, furniture, specialty collector's items, industrial and commercial equipment, fund raising, charity auctions and even grandma's fine china. Billy D is a master auctioneer at the top of the industry and is known to his customers and peers as one of the best there is!
---
Jennifer Dickenson
Owner/Auctioneer
Jen has been dedicated to the auction industry for nearly 20 years, working in every facet. Specializing in automobile auctions, Jen has travelled across Canada and the United States utilizing her skills, knowledge and experience in training auctions on procedures and integrating technology into day-to-day auction services, ensuring customer service as an essential role at the auction. Proudly graduating from Mohawk College in 1997 in the capacity of Advertising and Marketing, Jen has a rich background in mass media advertising including Print, Television, Trade Publications and Radio. Also awarded a scholarship in Media Sales in 1997 for her exceptional work in this field of study. As a trained auctioneer and ring 'person, Jen is very proud to be in a select group of woman auctioneers in Canada and continues to impress on the auction circuit as a top contender with her skill and charisma.
Jennifer Dickenson recently won the AAO Championship, bringing home two awards for her skill as an professional auctioneer' – Auctioneers Association of Ontario Women's Champion 2013 and the Auctioneers Association of Ontario Notice Champion 2013.
Congratulations, Jen!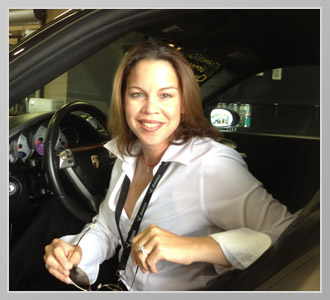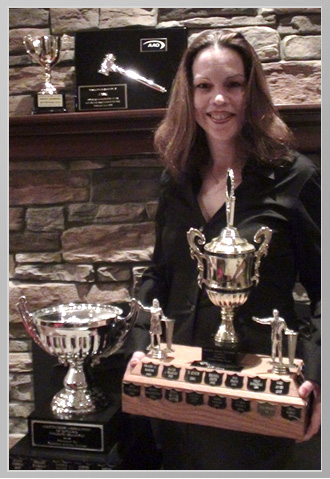 ---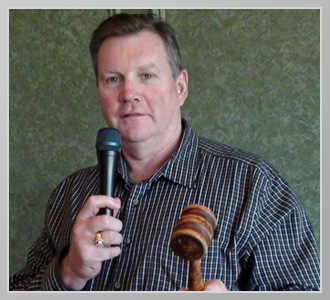 Bob Dickenson
Auctioneer
'Bobby D' as he is affectionately known in the auction profession has been an auctioneer for over 35 years. As a founding partner of CAAG as it was known, Canada's largest Automobile Auction, has since been acquired by ADESA Auctions. Bobby D is the lead auctioneer for Standardbred Canada Harness Racing Equine, and is a third generation Holstein Cattleman. He has sold brilliantly over the years and is a master auctioneer on the auctioneer's podium with any item 'none item to big, none item to small' mentality. Bobby D has given many auctioneers their start in the industry and is well known and respected throughout Canada. His unique 'auctioneers chant' has influenced many quality auctioneers over the years. His skills as an auctioneer and gentleman personality are irresistible to his audience.
---
Vince MacDonald
Auctioneer
Affectionately known as 'Vinny McCracken' in the auction world, Vince is yet another World Automobile Auctioneer Champion. Business partner and protégé to the "godfather" of auctions in Canada, Mr. Mike Lawrence. Vince was instrumental in the development and is a pioneer in moulding the automobile auction industry as we know it today. Vince's charismatic charm and razor sharp wit completely wins over audience and is a friend to many in the auction industry across Canada. The words, Vince MacDonald and Auctions are synonymous with one another; he is in one word – "the best". – wait, is that two words?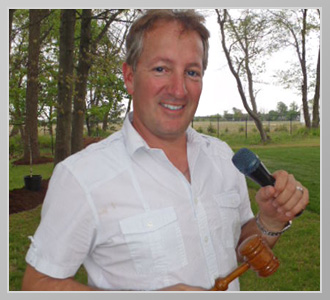 ---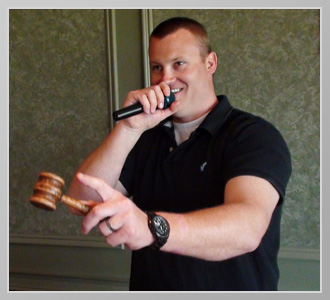 Allan Dickenson
Auctioneer
Grandson of H. A. Dickenson (Horse Racing Hall of Fame Winner), as he is named after, Allan has crafted and perfected his auctioneer chant and skill for nearly a decade. His hard working and honest approach is welcomed and truly appreciated by both his customers and audience. Allan travels all over southern Ontario each week to the auctioneer's podium auctioneering an assortment of items ranging from automobiles, salvage vehicles, equipment and commercial goods. Allan is a proud second generation auctioneer.
---
Charles Dickenson
Auction Operations
Charlie is our "go-to guy" on Auction Day and everyday for the matter. Charlie's expertise in Auction Operations include auction day step-up, security, sound, lot coordination and to keep the auction rolling. He is also in charge of consignment pick-up service at your door step and delivery to the Auction location. Auctions really are "organized chaos" and Charlie is the guy that keeps it all together!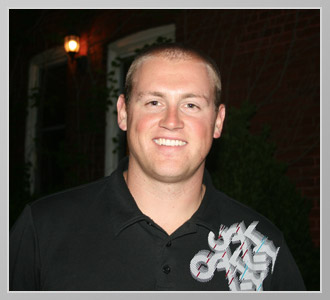 ---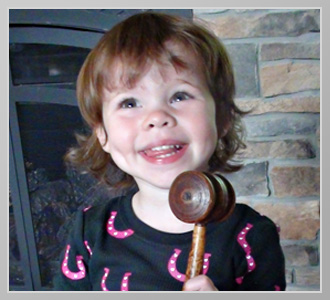 Claudia Dickenson
Auctioneer in Training
"SOOOOOOOLD" What can I say … this picture is just too cute!